Defi Inter-alliances
What is DEFI INTER Alliances?
It is an online trivia quiz en français (20-30 questions), organised by the Alliances Françaises network around the world.
In a nutshell: a fun way to practise your French, to test your knowledge of French culture, and to proudly represent Newcaslte & Australia in an international competition!
From level A2 (Elementary, Intermediate and Advanced levels).
Questions are in French.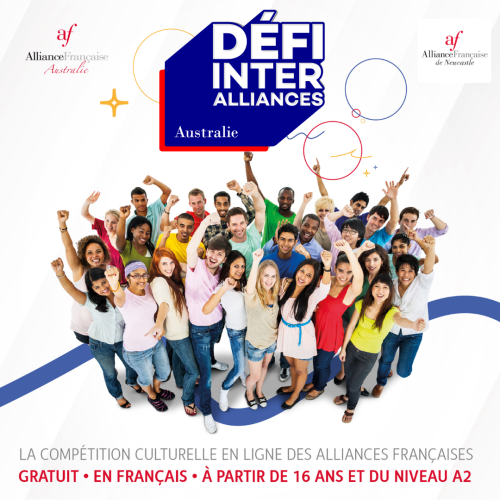 LOCAL Défi Kahoot on Wednesday 15 November 9 pm
NATIONAL Défi Kahoot on Wednesday 22 November 6 pm (Newcastle Time)
INTERNATIONAL Défi Kahoot on Sunday 3 December 11 pm (Newcastle Time)
Practise with our Special Training Kahoot, and get a chance to represent Alliance française de Newcastle at the National Competition then the International Competition where you could represent Australia!

The 3 top-scoring contestants in the International Final will be offered a two-weeks linguistic stay with one of the following Alliance Française
Provence
Bordeaux
CAVILAM Alliance Française (Vichy)
Lyon
Montpellier
Nice Côte d'Azur
Rouen Normandie
According to their ranking, the three winners will choose which city they wish to visit. The winner with the highest points counted in the international final will be given first choice, followed by the second and then the third-placed contestants in that order. Once a city is selected, the next winner will be asked to choose a different Alliance Française.

The trip includes:
Tuition fees (registration and course fee)
Half-board accommodation with a local family (breakfast and dinner)
Return flights to Paris from the airport closest to the winner's home
Return transportation (train or bus) as required to the city of the winner's choice. Local transport costs (bus, metro, RER, etc.) are not included
A 400 euros allocation.

All other costs that are not included in the prize (such as insurance, extra baggage, etc.) are to be covered by the winners. In the event that the winner requires a visa to visit France, he/she will be responsible for making the necessary arrangements. The winners will make sure they meet the conditions required to travel to France.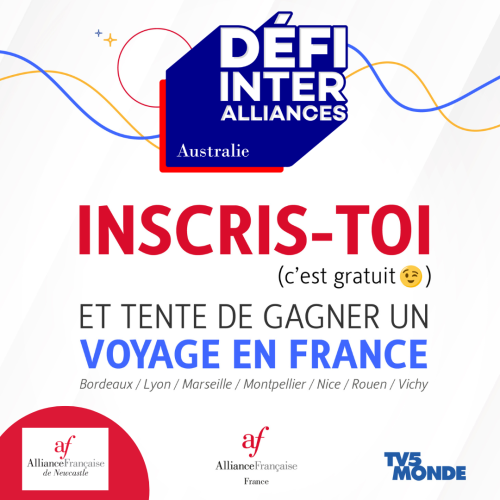 REGISTER below to enter the LOCAL Competition with Alliance française de Newcastle.
Once you have registered, you will receive Kahoot invites to practise and get ready for the first selection of this WorldWide Competition.
BONNE CHANCE !


REGISTER HERE REGISTER HERE
---
Contact us
contact@afnewcastle.com.au
Please note that there are no office hours.

Alliance Française de Newcastle
63 Scott Street, Newcastle, NSW 2300
Completely accessible
Tramway Stop "Newcastle Beach"

Postal
PO Box 505
Jesmond, NSW 2299
We would like to acknowledge the traditional owners of the land on which the Alliance Française de Newcastle stands and remind people that we live and work on Aboriginal land.
We pay our respects to elders, past, present and emerging.  ​