Order a course
Your previous selection: Term 4
Term 4 is 9 weeks long.
Only 1 course available for this selection
Intermediate 2 - Term 4 Enrolment -
Product Code: 2021-T4-I2-G1-STD Term 4 Enrolment 2021

Age Group
Adults
Type
Standard
Session
2021 - Term 4
Pace
2 hours / week over 9 weeks
Level
Intermediate 2

Schedules
05 Oct 2021 to 30 Nov 2021

Tuesday 6pm ▸ 8pm at ONLINE (Francine Jorda)
Note: By choosing this option, you will be enroled in the Intermediate 2 course for term 4.

IMPORTANT : THIS COURSE WILL BE CONDUCTED ONLINE VIA ZOOM FOR PART OF THE TERM. ONCE THE LOCKDOWN IS LIFTED, CLASSES WILL BE BACK F2F at Level 1, 799-803 Hunter Street, Newcastle West.

We conduct the classes based on the school timetable. You can refer to our "Calendar and Timetable" page for more information about the holidays and for more information about the location of the class.

For this course, you will need to purchase or be in possession of the textbook Cosmopolite 3. It is available for purchase on our website at a preferential price for AF members.
A valid membership is required in order to enroll in this course
Required Course Material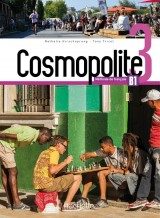 Cosmopolite 3
Cosmopolite 3 is the textbook we use for the Intermediate 2 and Advanced courses.
Using a variety of resources, this textbook is a great way to learn the French language and culture through real life situations shared by French, francophone and francophile people around the world.
$280.00

AUD
Approx $201.88
USD